Beyond Insurance® Process
A proprietary 4-step process.
Beyond Insurance®  is simple yet revolutionary.
With Beyond Insurance® we identify, understand, implement and monitor the Risk Management strategies for you and your business.
The Beyond Insurance® Process is simple yet revolutionary. It begins with a curiosity and desire to understand the inner workings of a business. If one does not understand a business and its issues, it is not possible to adequately perform exposure identification. The Reagan Companies agrees that the design and procurement of insurance is essential. However, unlike most agents, brokers and carriers, The Reagan Companies does not see insurance as the cornerstone of deep, long lasting and mutually profitable relationships.
The Beyond Insurance® Process utilizes a variety of techniques to identify, measure and reduce risk while enhancing an organization's performance through non-insurance solutions. Each decision about how to manage risk is examined in light of its impact on an organization's bottom line.
The Beyond Insurance® Process
Simple yet revolutionary.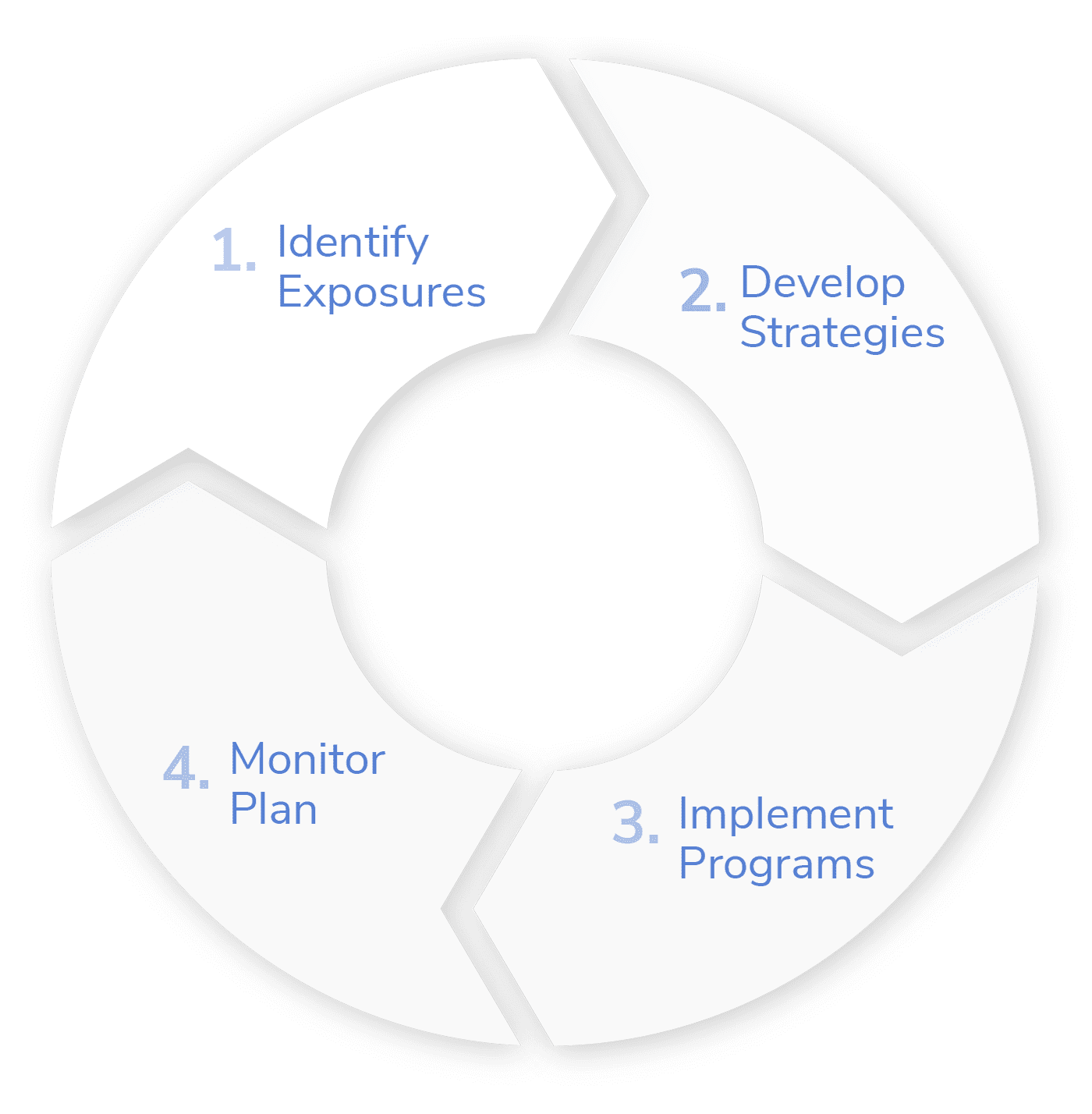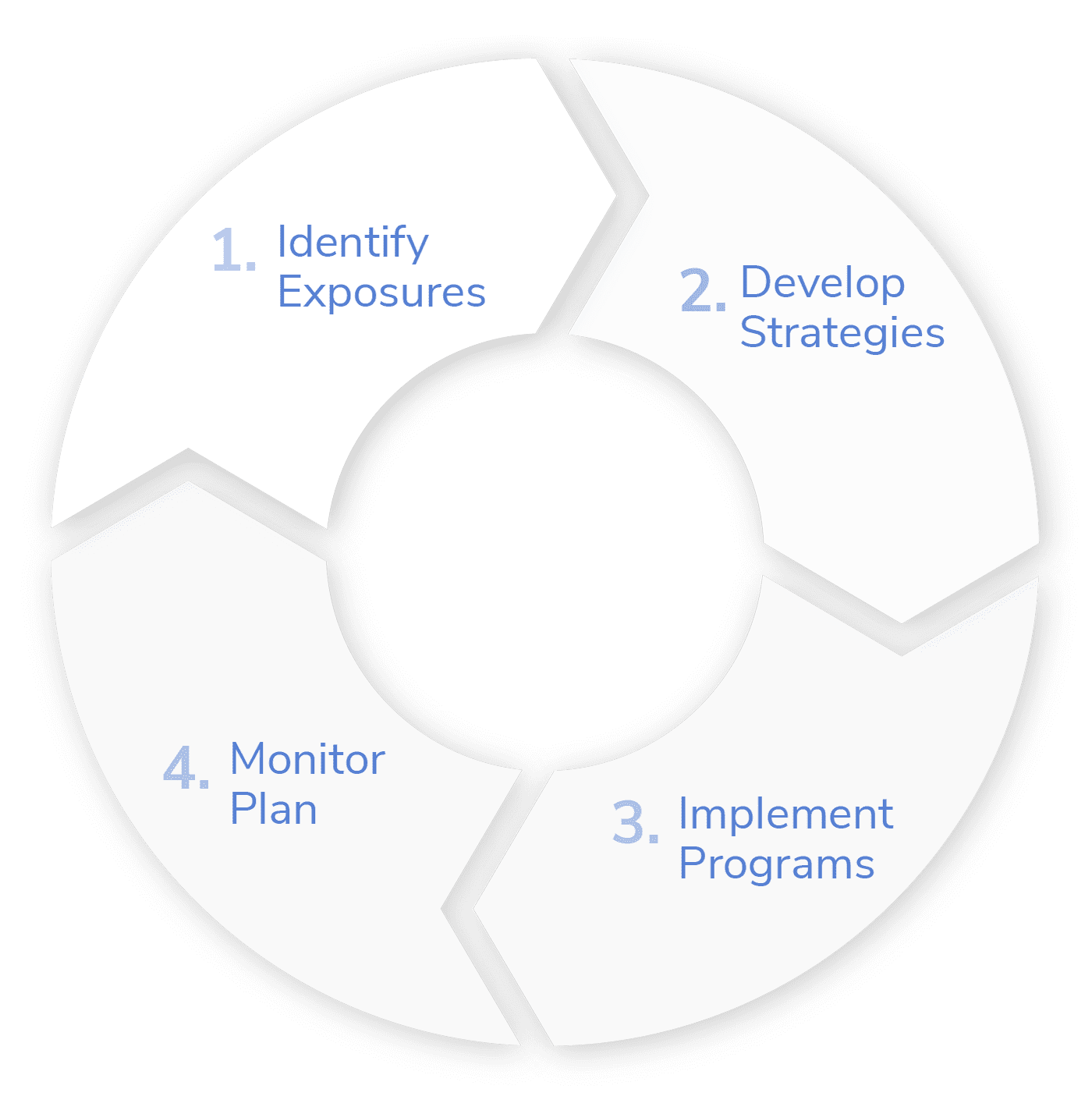 During this crucial initial phase, we will invest the time to understand every facet of your business in order to help you and your team identify the risks which face your business. By evaluating the effectiveness of Risk Management programs, practices and resources under "real world" conditions, we assure that your assets receive precisely the right type of protection.
Once we have developed a thorough understanding of your business, including your industry, corporate culture and operating procedures, we are ready to move beyond insurance, exploring a spectrum of proven alternative strategies to minimize risk and reduce insurance costs.
During the implementation process we put in place specially tailored programs and strategies designed to protect your assets while reducing insurance costs. A strong belief in our process motivates underwriters to offer much lower insurance costs on your behalf.
You and your business are dynamic – what works for you today might not work as well tomorrow. For this reason, we will continue to monitor and adjust your Risk Management programs to ensure a perfect fit as your business evolves and changes. This is where our comprehensive understanding of your business (see Step 1) can pay huge dividends, by enabling us to precisely tailor your protection to fit the unique needs of your business.
Why Insurance Carriers Love the Beyond Insurance® Process
Insurance carriers love The Beyond Insurance ® Process for a number of reasons including enhanced new business "success ratio," retention, and outstanding loss ratios. The following represent a few quotations from Regional and Branch Managers of national insurance companies:
"Because of the Beyond Insurance® Process, we can quickly make informed decisions on risk selection and pricing; and offer the insured our most favorable terms and conditions."
"The Beyond Insurance® Process offers a more in depth understanding of an insured's operations and exposures. It also enables us to gain comfort with the risk, and more of a willingness to accept the risk."
"The Beyond Insurance® Process embodies the concept of intimacy, intensity and integrity. The Process greatly clarifies risk acceptance and pricing decisions by us, and allows more comfort and flexibility in program design."
"We have great faith in the Beyond Insurance® approach. It leverages all elements of the Risk Management Process (diagnosis, design, implementation and monitoring) which invariably leads to a more rational and efficient allocation of our financial and human capital."
"The Beyond Insurance ® Process quantifies both the hard and soft costs affecting customer margins, provides a much higher degree of customer satisfaction and retention, and greatly clarifies risk acceptance and pricing decisions by us."
Request a Beyond Insurance® Interview
The Reagan Companies is extremely selective in choosing organizations for the Beyond Insurance® process. We want to make sure it's the right fit. Complete the form below and one of our risk advisors will reach out to you to schedule an interview.